Gah! I'm SO excited to share this "hack"! In a previous post I mentioned my best girlfriend and I take an annual ladies only trip, well, I'm not one to set small goals, so on top of paying only $90 for our airfare to Cancun, Mexico I was determined to make our trip as economical as possible! (so far the ENTIRE 5 day trip has cost a total of $180….airfare and All Inclusive hotel included!)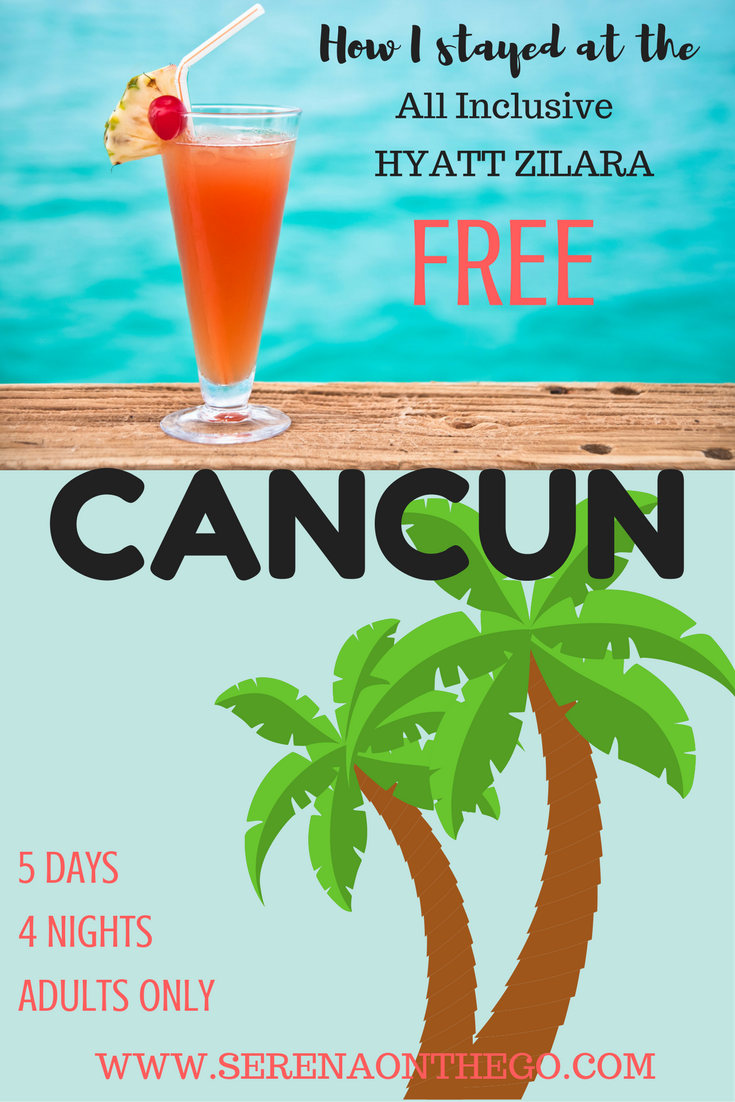 LIKE ME ON FACEBOOK!
START PINNING WITH ME ON PINTEREST!
CHECK ME OUT ON INSTAGRAM!
JOIN MY BLOGGER FACEBOOK GROUP!
After a little late night web-surfing I learned that the Hyatt credit card has a sign up bonus of 2 Free nights (AT ANY HYATT PROPERTY) available after you sign up for their credit card and meet the minimum spending requirement.
As if that wasn't sweet enough, cardholders ALSO get 1 free night at any Category 1-4 hotel or resort every year on the card holder's anniversary.
WOW, right!? Without wasting a single minute I jumped on the phone to call Hyatt directly to see if our December travel dates where even a possibility for redemption of the 2 free nights. The sweet gal on the phone confirmed there was plenty of award space available so I applied for the Hyatt credit card immediately.
I knew I could use the 2 free nights, and transfer 50k Chase Ultimate Rewards Points (from my Chase Sapphire Preferred VISA) to cover the cost of the other 2 nights (we are staying 4 nights total).
Only 2 days after reaching the minimum spend requirement I received this beauty in my World of Hyatt account: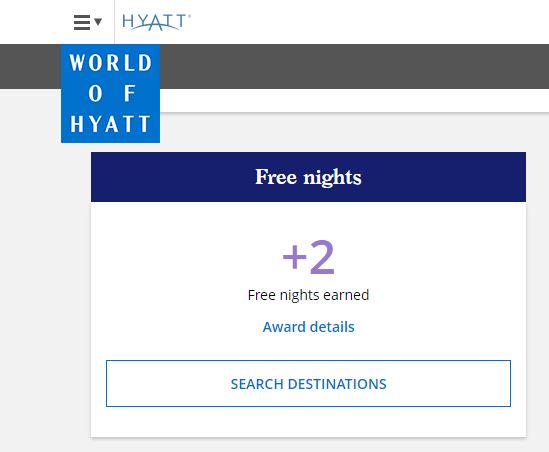 World of Hyatt (previously Gold Passport) award redemption is available for Hyatt Zilara Cancun by calling 1 866 567 7830 from within the US and Canada.
Spending a total of 7 minutes on the phone was all it took to confirm availability, transfer Chase Ultimate Rewards Points (Hyatt is a partner) for the 2 extra nights not covered by the sign up bonus, and have confirmation number in hand! The reservation agent was great and had no issue with staying on the phone while I transferred my Chase Ultimate Rewards Points to my Hyatt account (which only took seconds and the transfer was immediate!)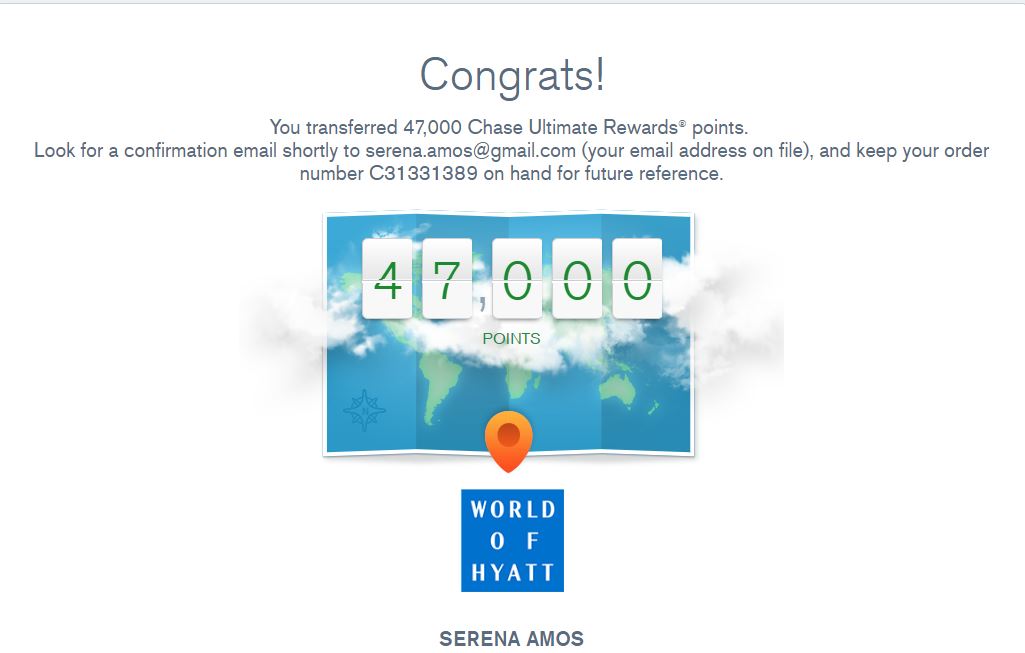 I instantly received an e-mail confirmation with our full reservation!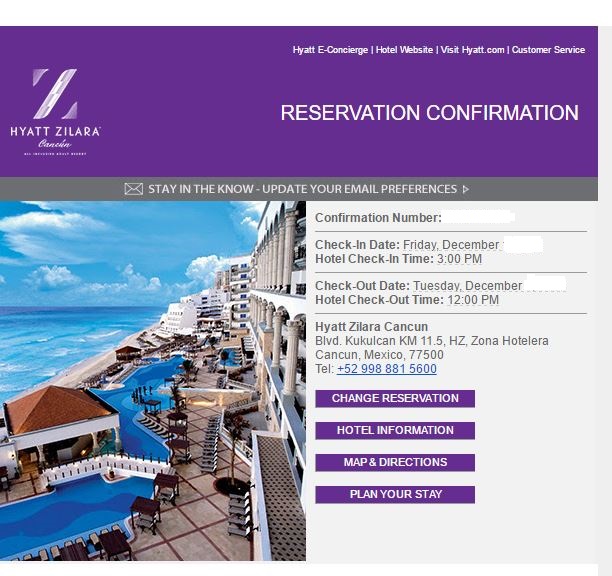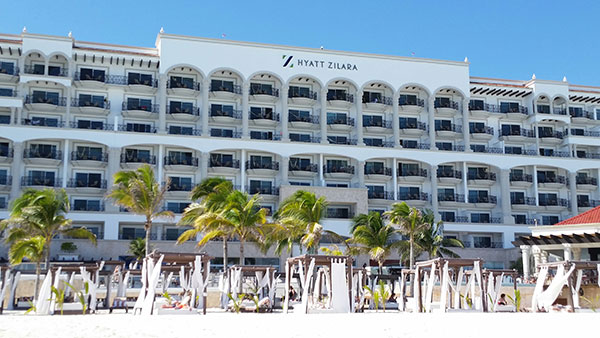 My BFF and I are pumped to experience this beautiful hotel….and even better that it's her 1st ever out-of-country beach experience!
Where would you go if you had 2 free Hyatt nights ANYWHERE in the world?
-Serena
LIKE ME ON FACEBOOK!
START PINNING WITH ME ON PINTEREST!
CHECK ME OUT ON INSTAGRAM!
JOIN MY BLOGGER FACEBOOK GROUP!
What's stopping you from your dreams?
Grab your FREE copy of "Perfecting Pinnable Images" COURSE NOW!