Step 1. of learning "How to Fly FREE" was becoming best friends with your credit score. Now, we move onto Step 2.
I've listed "signing up for loyalty programs" as Step 2. on the basic steps of learning "How to Fly FREE", because without being a member of different airline and hotel loyalty programs you won't be able to partake in their amazing rewards programs or book travel using their award programs.
Simply put, it's just easier to grab a piece of paper and pen (or, excel spreadsheet if you're a smartypants), visit each website below, write down your log-in user ID, password, and loyalty number as you go down this list! By taking 15-20 minutes now to join these free programs you'll save the hassle of doing it when you are ready to book an airline ticket or hotel room!
The loyalty accounts "bank" your miles and points earned, receive the miles and points you transfer from credit cards, and allow you to search each airlines' individual website for award availability. Also, if you apply for an airline or hotel "branded" card (ie. Delta Gold AMEX) you'll need to have your loyalty number established.
BONUS: Becoming a member will give you access to targeted credit card sign up bonuses, airfare and hotel sales, promotions, member-only offers, and other non-credit card ways to earn extra miles and points!
They are all FREE to join!
This list could be hundreds long, but since I explained I'm only teaching BASIC travel hacking skills I've kept the list short by listing my personal favorites and my most utilized programs.
Simply click on the links and each website will open in a new tab.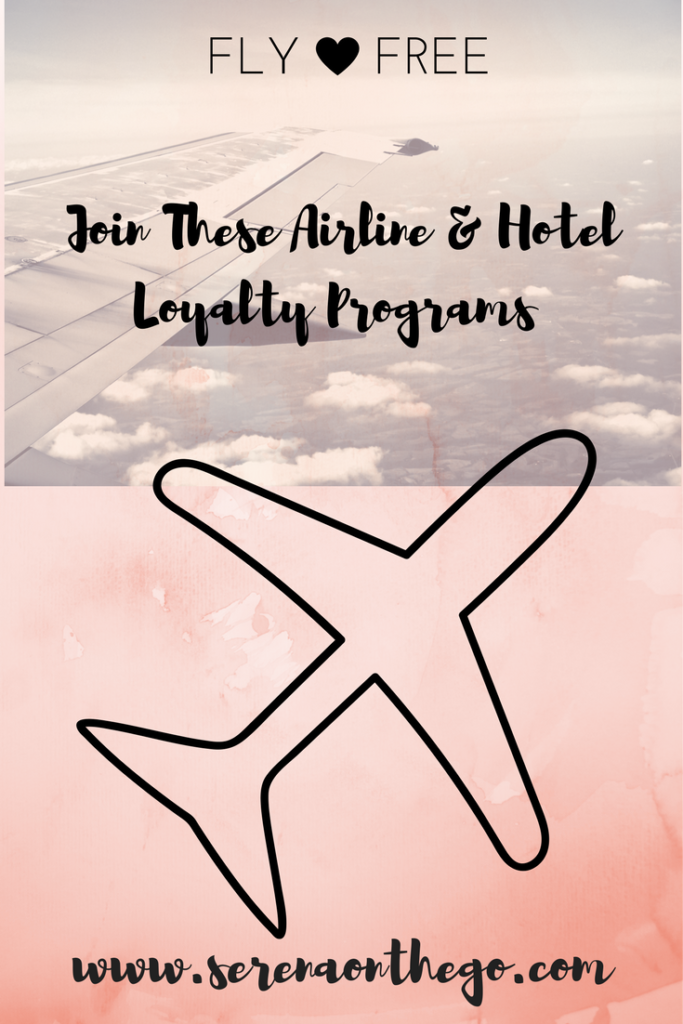 Airlines:
Hotels:
Let's review.
Signing up for loyalty programs should be something you do early on. This gets the ball rolling for your new hobby of collecting points and miles! Don't feel like you need to sign up for every program that exists, as there are TONS. Just a few will do!
Shoot me an e-mail or comment below if you have any questions!
Now, let's move onto Step 3, applying for a flexible reward credit card and my MUST HAVE credit cards (the ones I actually use and love)
Happy Travels,
START PINNING WITH ME ON PINTEREST!
JOIN MY BLOGGER FACEBOOK GROUP!
-Serena
Save
What's stopping you from your dreams?
Grab your FREE copy of "Perfecting Pinnable Images" COURSE NOW!