You've done it! You've stuck around and made it to the final step. Step 5. The only thing after this is EXTREME excitement, frequent traveling without spending anything but taxes, a new addiction, earning MORE miles and points without using your credit cards, and annoying your friends with your newly discovered passion! (maybe that's just me!)
Before we move on I have to get this out of the way. If you get deeper into travel hacking you'll surely come across, what I consider to be, risky ways of earning miles and points. This is sometimes referred to as "manufactured spending". Most of the ways to "fake" spend on your credit cards have gone extinct, however, there are plenty of options still out there. You won't learn those here.
Here's how I reach minimum spending quickly and without fail!
EVERYDAY & EVERYTHING SPENDING! When I say "EVERYTHING" I mean EVERYTHING. The only spending my husband and I do that is not on a credit card is 2 utility payments that require us to use a checking or savings account. Other than those 2 payments ALL our spending is done via credit card. We avoid using cash, checks or debit cards. Then, like I said before, we pay if off in full.
Mortgage and Rent: This usually comes as a surprise to most, but YES —> you CAN pay your mortgage and rent with a credit card. There are many 3rd party companies who take a small fee to process your payment and then they send a check to your lender/servicer. I've personally used Plastiq and had great luck! My mortgage payments were received early and processed with NO complications. Plastiq will charge a small fee, usually around 2.5%, however, that is a small amount to pay for what you'll receive in return in the form of free travel by meeting your minimum spending requirement. Use my referral code, 549603, to get 200 fee-free dollars after your first $20 payment!
Daycare, Daycamps, Tuition: Most business now offer pay-by-credit-card, it NEVER hurts to ask!
Utility and Cell Phone Bills: From experience I've learned that almost all utility and cell phone companies accept credit cards!
Groceries: The average family of 4 spends $1388.00 a month on groceries.
Gas: Don't use another drop without charging it.
Dining Out: Always use your cards to pay for dining out even if it's a small amount. If your eating out with others offer to pay their bill and they can pay you cash back.
Medical Expenses: It came as a nice surprise to us this year that our dentist office accepted credit cards, we were able to pay off our medical and dental bills in full and earned points!
Gift and Holiday Shopping: Are there things you can buy now and save? Once I needed to meet a minimum spend by October so I went Christmas shopping!
Charity, Church and Fundraising: Do you give monthly or quarterly to a charity? Change your payment options to credit! Our church accepts online tithing!
Pre-Planned Big Purchases: Is there a big purchase in your future you can make now? (don't go on a big-purchase spree just to meet your minimum spend!)
Buy Your Favorite Store and Restaurant Gift Cards for Future Use: There are still MANY stores that will accept credit cards to buy gift cards. Do you have a home repair coming up? How about a Home Depot or Lowe's gift card? Walmart?
Owe Taxes? You can pay your Federal taxes with a credit card, and I'm sure it would be worth a quick check to see if your State also accepts credit cards for tax purposes.
This is just a SMALL list to get your ideas flowing! There are unlimited number of ways you can use your credit card to meet the minimum spending requirements!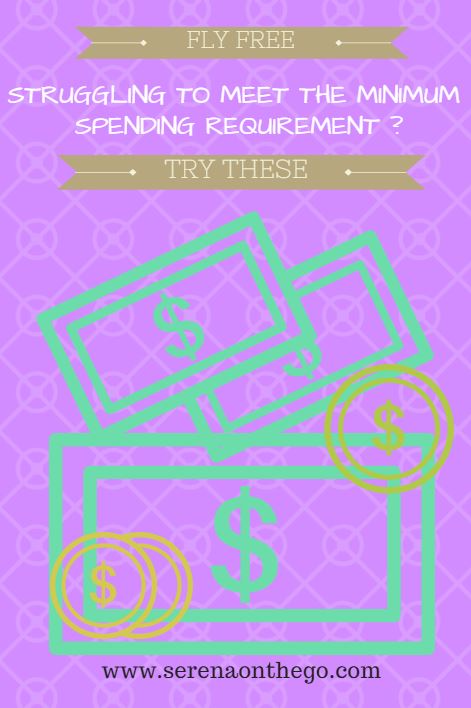 See, not so bad, right!?
Now your ready to learn how to earn extra miles and points without even touching your credit cards!
Happy Travels,
START PINNING WITH ME ON PINTEREST!
JOIN MY BLOGGER FACEBOOK GROUP!
-Serena
What's stopping you from your dreams?
Grab your FREE copy of "Perfecting Pinnable Images" COURSE NOW!