BECOME BEST FRIENDS WITH YOUR CREDIT!
Tonight, I was reading comments in an online financial group I follow on Facebook; the author of the group had asked, "How often do you check your credit score?" Shockingly I learned that very few people knew or checked their credit scores. This came as a surprise to me because I'm as addicted to my credit score as I am Costco and chocolate! Maintaining my credit score has provided my family an abundance of free airfare and travel. It's such a misnomer to think that "credit" is only for obtaining credit; a credit score is incredibly important for many reasons.
Some may think there is really no reason to be a credit score "stalker", but the truth is your credit score has far more impact on your everyday life than just "credit" (borrowing or credit cards). In fact, I wish the people in charge never named it a "credit" score in the 1st place because the word "credit" is sadly misleading; it's not just a measure of your "credit" worthiness anymore.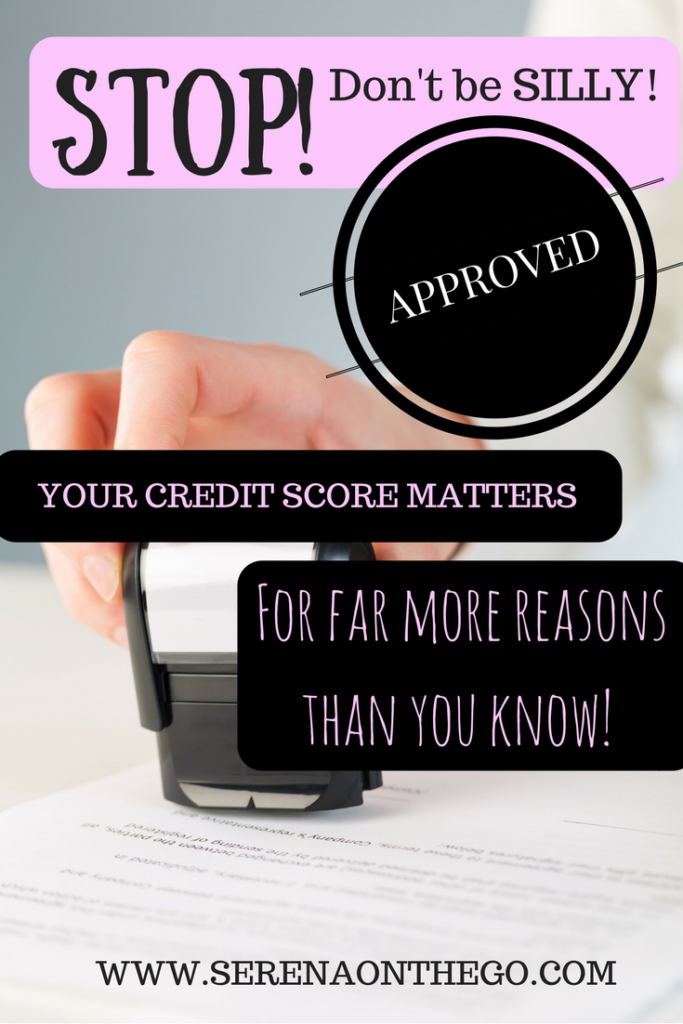 It goes without saying that your credit score can affect your eligibility for credit cards, mortgages and loans, but did you know your credit score can also impact your car insurance rates, home owners insurance rates, life insurance rates, adoption screenings, employment applications, cell phone plans, leasing applications and most importantly your eligibility to borrow in an emergency situation if needed. It's all true.
My credit score has allowed me to travel free, refinance my house at a lower interest rate, refinance our vehicles at a lower interest rate, and to have the financial freedom to retire by 40!
Nowadays, checking your credit score is easy-peasey; there are so many legit online sites to check your credit regularly and for FREE.
So, your credit is already in the crapper? Let's get some myths out of the way!
It's too late to fix it
It doesn't matter because I'm not getting credit cards
I pay cash for everything so it doesn't matter
I already own a home and a car, who cares?
None of these are true! It's never too late the fix your credit, and it can be done fairly quickly. Every little improvement on your credit score brings big rewards.



So, how is credit rated? And, what can you do to make improvements to it?
A credit score is measure based on 5 critical things, which are all considered in your overall score:
Payment history (35%) (this shows creditors how you have met your prior obligations)
Amount owed/utilization (30%) (this shows how much you currently owe to lenders and how much of your credit you're using, balance-to-limit, the goal is to NEVER use more than 30%)
Length of credit history (15%) (simple, the longer you have credit history….the better)
New credit obtained (10%) (the amount and frequency of new borrowing)
Type of credit used (10%) (lenders love to see a variety of credit, ie. credit cards, auto loans, mortgage, etc.)
Now that you know how a credit score is determined, let's talk about how you can fix yours and keep it great!
Pay your bills on time every month, and pay a little extra if you can swing it
Never use more than 30% of your credit line (for example, if your credit card has a $1000 limit, do not charge more than $300 on it). Also, if your working on paying off debt always pay debt in the order that will reduce your balance-to-limit ratio to improve utilization
Try to limit the credit you obtain (although, if your paying your bills on time and keeping utilization low this won't have much of an impact)
Do NOT close credit accounts in good standing (even if the balance is $0), this lowers your credit score by reducing your utilization AND credit history!
Protecting my own credit has been essential to leveraging free rewards travel. Use the 2 FREE websites below to check your credit as often as possible (I highly recommend at least once a month!) Neither site below require a credit card to sign up, they are both user friendly and you can start fixing any errors found immediately! They have become my go-to credit checking websites.
www.creditsesame.com (my personal favorite…it's just VERY user friendly)
Now, we move onto Step 2. Signing up for airline and hotel FREE loyalty programs!
As always, contact me if you have any questions or need help! I LOVE hearing from my readers!
START PINNING WITH ME ON PINTEREST!
JOIN MY BLOGGER FACEBOOK GROUP!
-Serena
Save
Save
Save
Save
What's stopping you from your dreams?
Grab your FREE copy of "Perfecting Pinnable Images" COURSE NOW!