This post isn't about free traveling or making money off my blog.  In fact, it's not even related.  It's about food addition.  This is where I take a little time-out to share a personal side of Serena on the GO.
It's a LONG one (like, super long), so grab some coffee (tea, wine, I don't judge), sit back, and enjoy!
Inside Job; A Food Addict's Story of Recovery 
My stomach is about to explode from dinner and my muffin top is squishing its way out of my yoga pants (aren't those damn things supposed to keep everything tucked in?) It's 7:15pm, If I find an excuse to leave the house now I can swing by the drive-through window for a large, creamy, orgasmic cheesecake milkshake (Mmm, along with battered fingersteaks dipped in fry sauce…it's an Idaho thing) before I have to be at church to pick my son up from youth group at 8.  I'm an Army veteran, which means I've mastered tactical and logistical plans, so of course this 45-minute window leaves me ample time to clean out my car of any binge evidence!   And, if I'm lucky, when I get to the church there might be cold, leftover pizza slices a 13 year old kid didn't eat.
Sound familiar?  I'm thinking that if you're reading this you can likely relate.  Truth is, this is only a teeny, tiny example of how food ruled my every move.  It's as if I planned 36 years around when I could get my next "hit".   When I could again feel the excitement of the next bite.  The pleasure of the next release. Truth is, I'd give up a winning lottery ticket if It had meant I could eat anything I wanted, whenever I wanted, and never see, feel, or experience the negative effects it had on me, my mind, or my body.
It's been months now since I reached the point of exhaustive desperation and sought out a solution.  Quite frankly, I did not know what I was looking for. I didn't even know what was "wrong" with me. I just knew I couldn't stop eating and I was confident my best friend (Google) would help me.  Countless hours were spent scouring the internet seeking something I didn't even know I needed; I just knew I needed something, ANYTHING.  And, I needed it now.  I had a desperate willingness to travel far for any help I could get; that's when I stumbled upon COR Retreat, A Food Recovery Program in Minnesota (a long way from Idaho).  It took me all of 10 minutes to reserve my spot and buy a plane ticket (or you can get there free) to attend their 5 day residential program.  It seemed "different" and different is what I needed.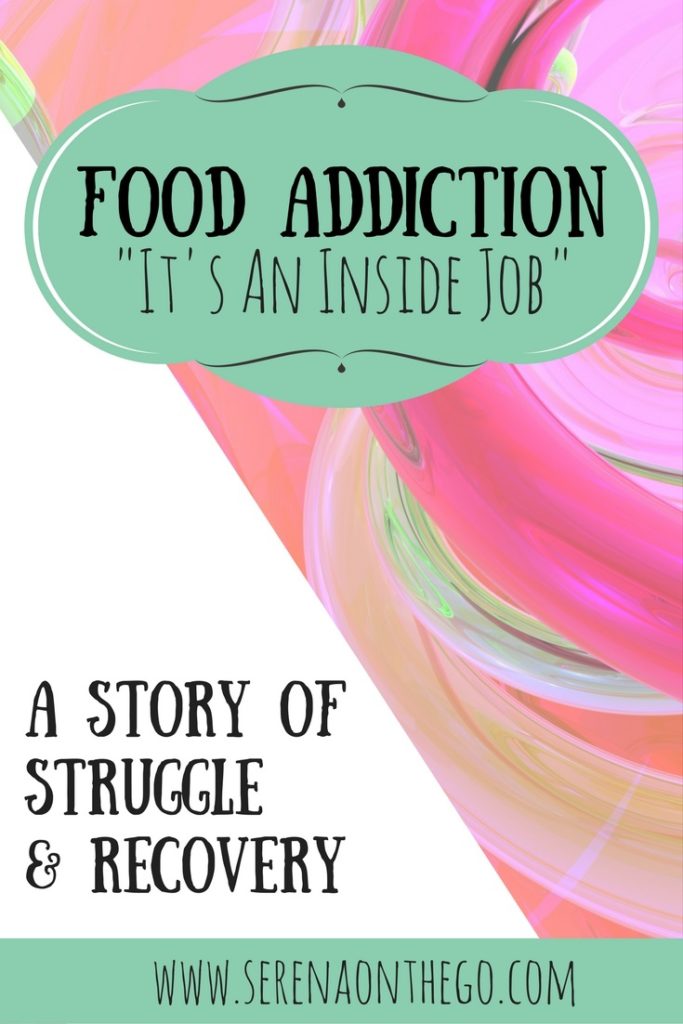 "Wherever you are on your journey of understanding and solving your battle with food, welcome."
Disclosure: There are some affiliate links below, which simply means if you purchase them I receive small compensation to keep this blog running.  
I attended.  And then attended again. And, I will go back again. Why? Because I learned things that blew my mind, and for the first time in my life I was surrounded by like minded people that understood my unhealthy love of food.
As hard as it was, I also learned I'm an addict.
Let me repeat: WE ARE ADDICTS.
My mind was blown when I  learned this, but I was also mind blown to learn my addiction to food isn't about the food AT ALL.  Crazy, right?  All this time we've spent obsessing about what we eat, how we eat it, when we eat it, the calories in it, and all this time…it wasn't even about "it".   Not kidding, the food is NOT our problem, the food is our focus.  The food is a symptom of our problem.  Our problem is our junk, our baggage, our childhood crap, our traumas, our resentments, our fears, our ugly nonsense that has been crashing on the couch in our heads…. rent free.
The thing is…. I'm a mom.   A damn good mom.  I've got a career.  A damn good career.  I can't be an addict.  Addicts use alcohol, drugs, sex, porn, gambling, shopping, and weird things like nail biting… so I thought.  For years I had convinced myself I just loved food; the taste, the texture, the way it felt going down.  "Addict" wasn't even a word on my radar.  I can't be an addict, I have sh** to do, things to accomplish, kids to raise, obligations to fulfill; RIGHT?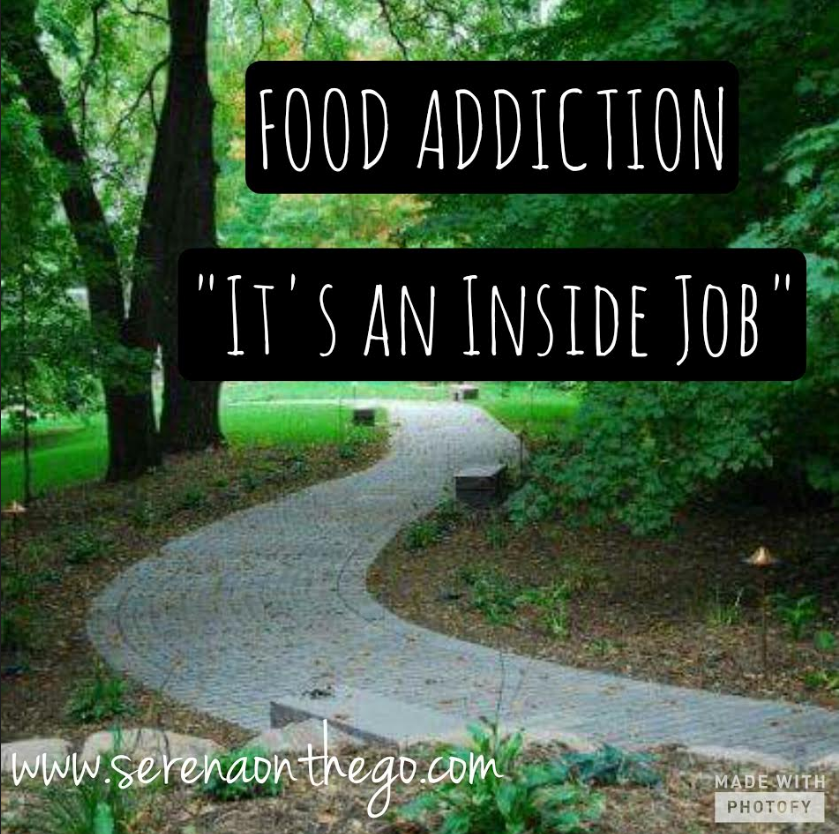 Don't panic.  It's okay.  Being an addict doesn't mean we are doomed or that we have failed at life.  It simply means we aren't like everyone else. We are not "normal" eaters. You know, the ones who can take a single Oreo and put the package back in the pantry, forgetting it's even there.  It simply means we need to learn what we don't know and fix this mess so that we can have a happy, peaceful life in a healthy body that we deserve!
If you're familiar with addiction, great, you're already a step ahead of the rest.  If you're not familiar with addiction, great, you're about to be.  See, addiction doesn't discriminate.  Addiction is not logical; it does not care if you are a Hollywood celebrity or a bank teller.  It doesn't care about your gender or race, or what kind of childhood you had.  It doesn't even care that you're religious, or atheist.  It doesn't care if you are a size 0 or a size 36.   Addiction isn't physical at all.
You might be thinking "wait, who is this random woman think she is to tell me I have baggage or resentments?", well, let me tell you, I thought the same thing when I first heard it at COR Retreat.  In fact, I was frankly pissed off.  For transparency sake I really thought "this is bullsh**, who is this skinny blonde bitch to tell me I overeat because I have crap from my past I haven't dealt with?" and "what can she possibly know about food addiction when she is 130 pounds soaking wet".   Yep, that's exactly what I thought. (I later learned she is a recovered food addict herself with years of successful recovery.)  I'd mastered the job of wearing my victim mentality like a crown.  I'd mastered selfishness, conceit, and a "if you do life the way I want you to do life my life will be perfect" mentality (aka, I'm a control freak).  If you're saying to yourself "this is NOT me", I understand, I used to say that also.  I'll make you a deal….you can keep thinking that as long as you keep reading.
If you're anything like me, you didn't think there was a fix.  Why?  Because if you're anything like me you've reached a point of desperation and you've made a futile attempt at every "diet" that exists in this flooded world of quick-fix, calorie counting, money sucking schemes.  You've cried on the floor of your closet.  You've cancelled plans because you didn't have anything to wear.  You've withheld sex because your body doesn't look the way you think it should.  You've postponed travel until you "lose another 10 pounds".   Diabetes is a word that is becoming more familiar to you. You have jeans ranging from size 8 to 24 in your collection (ok, maybe only I call it a collection…I take this denim stuff seriously).  You wake up every morning with dedication to "start again today".   You've researched every plan, pill, motivational quote, and seen every inspirational before and after picture you can find on the internet.  You've hated the "skinny bitch" and you've resented your skinny family members.
I often joke that If I could get back every dime I spent on diet products, gym memberships, and monthly subscription scams for weight loss products I'd be independently wealthy (doh…can't get it back!).   The good news is…. you CAN get back your mind.  You can get back the freedom from obsession.  See, here's the thing, I could always do really good for a week or so, sometimes I could do really good and keep to a diet for 3 weeks, but let's face it, I always went back to my "old" ways and the OBSESSION of food never went away even when I was "behaving".  Actually, I put on more weight with every diet that I "failed", no matter how hard I tried and no matter how much "will power" I thought I had.
I've since learned, "WILL POWER" is 2 words I want to take out back and stab with a fork.  Will power is NOT something an addict can use to overcome our obsession with food.  Trust me…. I'm an Army veteran, mom of 2 free-spirited back talkers, stepmom to 4, home owner, landlord, blog author, full time employee, and volunteer extraordinaire…. don't tell ME about WILL POWER.  I have enough will power to make this ink fly off this paper.  If another person told me I needed to have will power I might have punched them square between the eyes (ok, not really…. but you get me, right?).  If all we needed was will power to overcome our compulsive eating and unhealthy relationship with food we would have done it a LONG time ago, there would not be a multi-billion dollar "diet" industry and we'd all be walking around strutting our healthy weight and society's idea of a sexy body.  One simply cannot overcome this addiction with will power alone.  If someone else tells you it's possible…. simply smile and walk away.  They don't share our addiction.
Don't even get me started on the folks that say "you just have to want it bad enough" …they get 2 punches between the eyes.  There is nothing that makes flames come from my nostrils as much as being told I didn't "want" it bad enough. Again, they don't share our addiction.
While my journey to "food recovery" has not been perfect (I'm human, ya'll), I can say that 5 days at COR Retreat taught me how to self-reflect, it pried open my ignorant eyes, and despite stronghold apprehension and internal negative dialogue I started to learn my own value.  My self-pity turned to self-empathy.  My mirror wasn't so bad after all.  The previously held mental junk, baggage, childhood crap, traumas, resentments, fears, and ugly nonsense that had been crashing on my couch rent-free was now costing a lot and I could not afford the mental burden.

My wish is that everyone with food addiction could attend COR Retreat, however, I know that may not be a reality. Paying it forward through sharing my story felt like a necessity; as vulnerable as it may be.  For the first time in my life, I learned that addiction to food is an inside job.
I'm sharing the books that we used in hopes that you have an open mind and the willingness to see the food issue as an inside issue. The books are a great starting point.  Ignore the fact some are about alcoholics; while I know this can be off-putting, they really are exactly about US.
Learning about food addiction and having a mental epiphany that I simply wasn't happy with something in my life has changed everything. It's changed my confidence, my outlook on life, my friendships, my marriage and most of all, it's given me the confidence to start Serena on the GO.
You have value.  You have worth.  It's not about the food at all.
I'd love to hear your story!  Contact me!
START PINNING WITH ME ON PINTEREST!
JOIN MY BLOGGER FACEBOOK GROUP!
Have you had a look at some of my most recent FREE flights? How about how I plan to retire by 40? Or how I'm quitting my high paying career to do what I LOVE!
-Serena 
What's stopping you from your dreams?
Grab your FREE copy of "Perfecting Pinnable Images" COURSE NOW!