Getting blog e-mail subscribers and growing your e-mail list is crucial to your blogging business. It's how you connect, communicate, and sell!  Yes, I know…you've heard this hundreds of times but you're still asking "HOW do I get e-mail subscribers or grow my list in the first place?"  This post was written with you in mind.  Blog e-mail subscribers are special because they are your loyal readers who have said to you "I care what you say" and "Yes, please market to me." They love your content, they love your voice, they are beginning to trust you, and they've made a personal connection to you in some way. THEY WANT MORE!
Remember, once a blog reader leaves your site they will be bombarded with over 200 million OTHER blogs fighting for their loyalty and attention.  If you don't capture that reader by obtaining their e-mail address, through your blog e-mail subscription form, you've likely lost them forever. It's true. Sorry.
Instead of a reader having to locate your blog again, or book mark it, or risk losing your blog link all-together, e-mail subscribers want your shiny, happy voice to come barreling straight into their e-mail inbox. Sweet, right!? So how do you grow your list by encouraging more people to sign up for your e-mail list?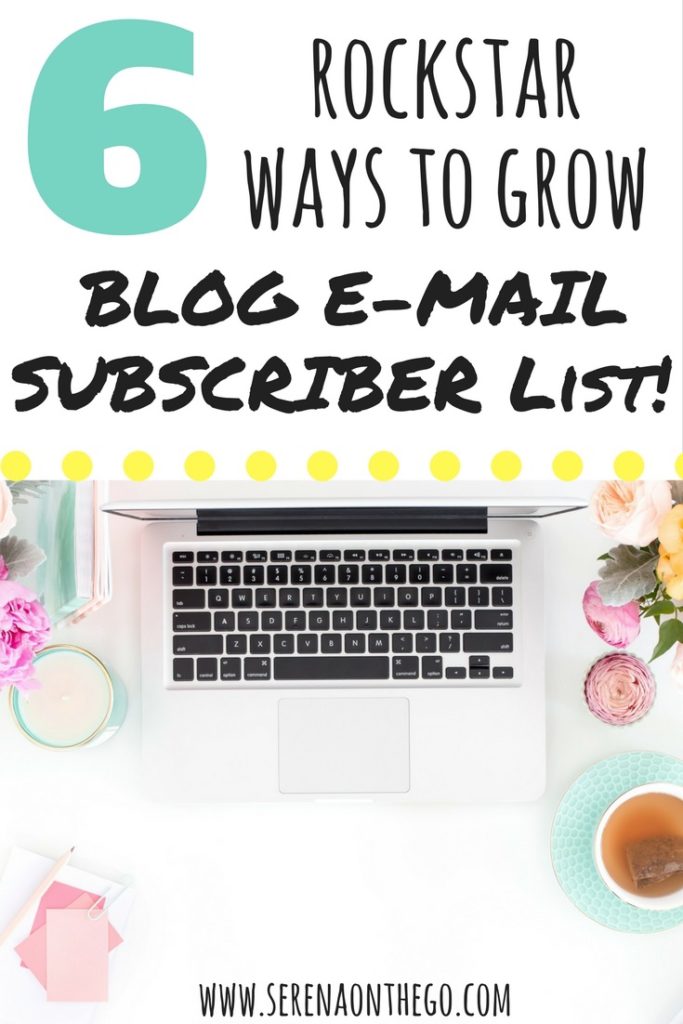 Disclosure: Some links in this post are affiliate links. If you purchase I get a small commission to keep this blog running.
Here are six tips for growing your list & getting blog e-mail subscribers!
Add a "freebie" or "opt-in" at EVERY opportunity 
A "freebie", "opt-in", or "magnet" is something of value you offer to your reader for free.  It is a sweet incentive for them to hand over their e-mail address.  Keep in mind, people don't enjoy spam and some hold their e-mail address as special to them as their social security number.  Think of your reader/blogger relationship like dating; the reader must like you, slowly gain your trust, date you, and then really want more of what you offer….which is the point they subscribe to your blog.
Like the heading suggests, add a freebie or opt-in every chance you get! Every post? Check. Hyperlink a call-to-cation on your e-mail signature? Check. Twitter bio? Check. Instagram profile? Check. Facebook group? Check, check, and check.  You get it, right? Anywhere else that your blog fans might interact with you is a great place to add an opt-in link. You want to make it accessible. This goes for your blog itself, also. Make an opt-in available on every page. When the moment strikes and they decide to join, don't make them hunt for it.
Remember, readers are interested in solving their OWN problems, not yours (sorry!), and they need solutions to their troubles (not yours, again!)  In the spirit of keeping that in mind, here are some great freebie ideas for any blog niche:
+FREE courses, PDF e-books, or invaluable resources that you know well (Similar to my FREE Blissiplined Blogger Course & FREE Perfecting Pinnable Images Course)
It's likely you have expertise in an area that others don't and need.  For instance, something that is obvious or comes easy to you may not be the same for someone else.  Share that information in the form of a freebie!  After the reader has completed the free course you can add them to a e-mail sequence or up-sell them a different paid course!  Perhaps you're a great photographer; offer free stock photos! Strapped for TIME?  Outsource your ideas for super affordable prices on Fiveer.  I LOVE (love, love) using Fiveer!
+List of niche related gift ideas
Blogs, especially when found via Pinterest, are a go-to for shoppers!  When shopping for my teenage son I'm always seeking new ideas, inspiration and must-haves!  Having a high-quality list of ideas for my teenager would reduce the time I have to spend online "window" shopping!
+Printables
Some may say this is "old-news"; I wholeheartedly disagree and I still find printables convenient, fun and time-saving! Items such as gift tags, stickers, kid's name tags, grocery reminder lists, pet care scheduling, etc. are still very helpful to the busy household keeper and shopper!  Ensure your printables are high enough quality that someone would actually pay for them!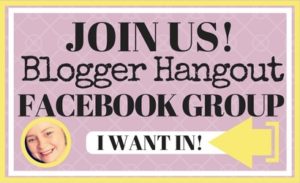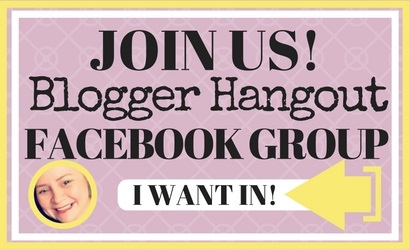 Make it as easy as possible for your blog reader!
Are you guilty of "x-ing" out of an annoying pop-up or 14-field form that requests everything except your blood type?  I can imagine you roll your eyes at them like I do and think "ugh, ain't no-body got time for that!"  It's important to reduce the number of entry fields in your opt-ins and pop-up blog e-mail subscription forms. You won't need more than a readers's first name & e-mail address. Ever.
Speaking of pop-ups, increase your e-mail subscription pop-up time to 60 seconds, or only to appear when a reader is leaving your site; you do not want a pop-up to appear immediately or you'll likely lose the reader.  Remember, in blogging you only have 1-3 seconds to catch the readers attention!  You don't want those seconds to be them fumbling to find the big red "X" to leave your site out of frustration.
Remove as many barriers as you can so that they can't say no to joining your e-mail subscription list.
Run a contest or giveaway!
The way to enter? Becoming a subscriber, of course!  You can include a whole range of actions for readers to take to increase their number of entries, which encourages them to stay engaged and rewards you at the same time! Win/Win!  For instance, you can make them aware that by doing the following activities they'll get more giveaway entries: liking your Facebook page, following you on Twitter, or sharing the contest on their social media profiles. The more involved your giveaway is, the more engagement and activity you'll reap from it!
Get your FREE Social Media Weekly Planner!
Stop being busy and get productive! Don't let social media suck you in!
OWN YOUR TIME with this FREE Weekly Social Media Planner!
Turn your TIME into blog e-mail subscribers!
Are you really good at something?  Do you have an expertise in your niche?  Could you be a consultant or coach in your niche?  Perhaps you blog about horses and can offer a review of riders on video? Or maybe your a home-school mom that excels at science? Readers would love to have 10-15 minutes of your time!  Use a landing page or blog subscription form to have readers sign up for 10-15 minute increments "live" with you!   This method is a win/win because you can use this time to gather new post ideas, get feedback, and hear your readers thoughts and feelings!
Put social media to work for you!
The average person spends up to 5 hours a DAY on social media!  Use all of your social media platform bios and profiles to link to your blog e-mail subscription sign up form or landing page!  Also, on a timed basis (weekly, bi-weekly, monthly) post specifically about your e-mail sign up and let your followers know what you offer!  It's OK to repeat posts for e-mail sign ups!
Related reading:
I'm quitting my $80k+ career for a life of happiness
The heartbreak & happiness of blog un-subscribers
1st quarter blog traffic, income & social media report
20,000 page views in 3 months! Let's talk blog traffic! 
Silly, you thought guest posting was only about exposure and blog traffic!  Nope, it's also a rock-star way to gain blog e-mail subscribers and grow your list!  Here's why.  When you guest post for another blogger you're offered the opportunity to share your work and create an "author bio" where you share a little about yourself.  The author bio is a great place to slap a freebie and "call to action" which links to your blog e-mail subscription form or landing page!
Wait! Now What….
One last thing….the question I knew you we're going to ask!  "Serena, what program do you use to build and grow your e-mail list?"  I use, and swear by ConvertKit.  Convertkit is an e-mail marketing program made especially for bloggers BY BLOGGERS!   Yep, it's a little pricey, but truth is it's been the BEST money I've spent so far on my blog!  While I know there are many free e-mail providers out there, I can't speak to their performance because I've used Convertkit since the day I launched!  Tip: INVEST IN YOUR BUSINESS!
Convertkit integrates with e-commerce, landing page, and membership site providers as well as having e-mail list automation tags and sequences (this is a fancy way to sort your readers, tag their interests and send out drip e-mails!)   Convertkit prevents you from having duplicate subscribers, it has EASY (like, really easy) templates to set up your blog e-mail subscription forms and landing pages and has awesome reports and a dashboard like mine below!  Honestly, for me, it's on my must-have list!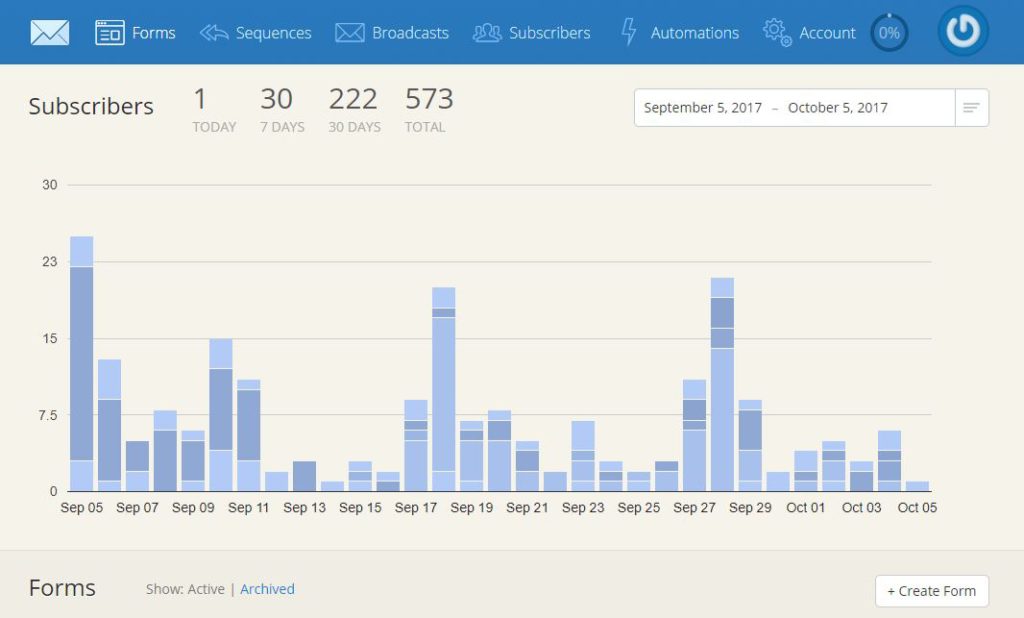 Looks like you have lots of ideas now to keep you busy while growing your e-mail list!  Have a look at this article published by SumoMe that has even more incredible e-mail subscriber list growth ideas!  SumoMe is a plug-in I use that provides free tools you need to grow your WordPress site.  SumoMe makes it easy for your readers to join your e-mail list, share your posts to social media, and optimize your analytics.
Have any awesome ideas for growing your e-mail list that I've missed?  I'd love to hear about them in the comments!
My Must Have Blogging Resource List: 
Bluehost
Convertkit
BoardBooster
Making Sense of Affiliate Marketing
Become a Pinterest VA Today 
Read more about happiness, success and blogging here! 
Read more about FREE airfare and my frugal travel adventures here! 
Here's to growing your e-mail list,
-Serena
Start your OWN blog! It's never too late! 
IS YOUR BLOG PINNABLE?
Let me send you a FREE short course on making PINNABLE images!
This simple course will boost your blog traffic!
Pinterest drove over 25,000 views to my blog in just 4 MONTHS!