It seems like yesterday I wrote "3000 Page Views In 1 Week Live".  Time flies, eh.  Well, here we are 86 days later!  Now seems like a good time for an update on blog traffic! Serena on the GO is not quite 4 months old, and as of this morning it's at 20,232 page views.  Exciting, right!?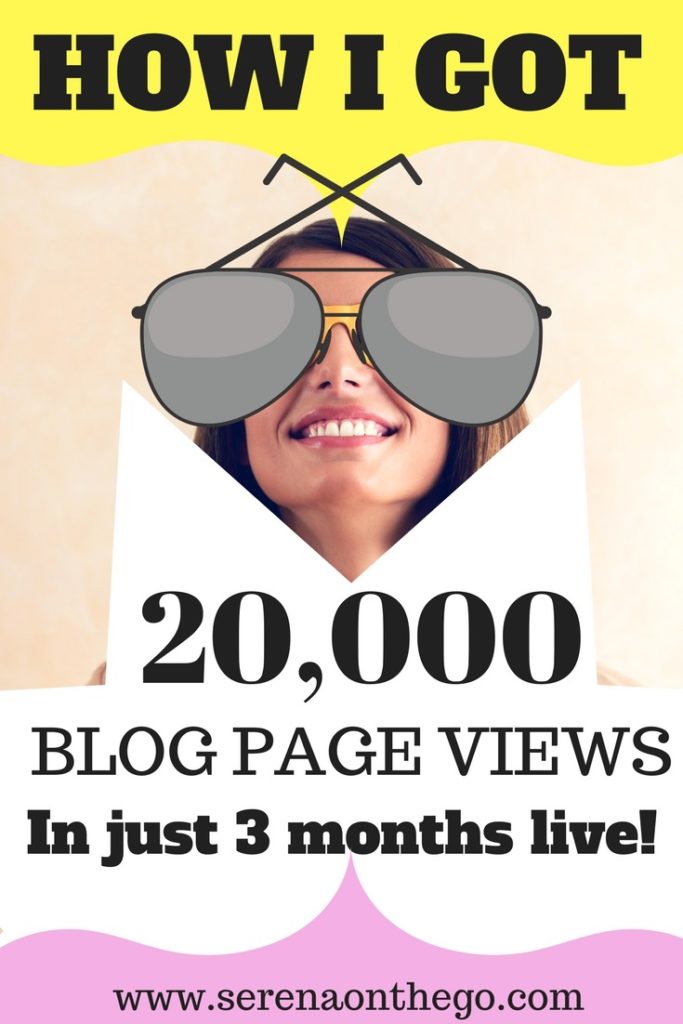 Related: Join my Free Facebook Blogger Hangout
Before I go on, let's get something straight (I'm a straight shooter).  This is NOT going to be a step by step guide on how you can magically make a traffic unicorn appear and get this amount of page views overnight.  It won't look like this:
Step 1. Do this
Step 2. Now do this
Step 3. Jump to the left 5 times
NO.
NO.
NO.
It's going to be a detailed insight into how I've approached my blog, what I've done to drive blog traffic, and the things I feel are critical to a successful blog.  These are my opinions.  Always remember opinions are like a*******, everyone has one.  During your blogging journey, you'll receive copious amounts of advice, direction and criticism; only you can decide what feels good and what works best for YOU.
Start a blog RIGHT from the start! FREE Blogging Course!
Enter your name & e-mail to get immediate access!
Here's what worked for me:
It's NEVER too early to start building online relationships with other bloggers (even "celebrity" ones!)
Whoa, intimidating right!?  Well, so is a lot of other stuff in life. Get over it.  Other bloggers, especially successful ones are your biggest teachers and support network.  They've all started from the ground-up, they've felt your same frustrations, feelings of being overwhelmed, learned through mistakes, and seen-it-all.  Let them be your guide.
If you haven't noticed already, the blogging community is tight knit.  Weave yourself into this knit!  Just 1 week into my blogging journey I reached out to Michelle Schroeder-Gardner of Making Sense of Cents (whoa, right, who do I think I am?) and she was incredible!  She, like so many other "big name in the game" bloggers are down to Earth, supportive, helpful and seemingly have an "open door" policy.  I've yet to experience any negativity or competitiveness from well-known bloggers.  In fact, I often tell others that out of my 21 years of working (Army, Corporate and Federal) I've never been a part of a more welcoming, friendly, and supportive community of folks!
Having friends in the blogging community open doors for you.  It's a network gold-mine.  For one, you can simply learn things you didn't already know.  It also opens up opportunities to be noticed, mentioned, guest posted, interviewed, get invited to Pinterest group boards (more on that later), and get social media shot-outs. It's also a great way to find affiliations, courses, and to review their already-successful work (remember, I don't believe in re-inventing the wheel.) Let's face it, I can't be the only one that nerds out with excitement when Michelle Shroeder-Gardner "likes" my Facebook posts (don't tell her I said this…haha)
So, don't be shy, we're all introverts of sorts (or we wouldn't be bloggers).  Be the voice for your blog! You've worked hard on it and should be proud.  Reach out and touch someone!  Start here, I know for a fact these gals (and guy) won't be snarky!
Kristin Larsen from KristinLarsen.com (formally Believe in a Budget)
Kelan & Brittany Kline from The Savvy Couple
Eden Fried from EdenFried.com
Carrie Becker from Our Everyday Chaos
Be A Hustler (Baby), but NOT a Spammer!  Let's Talk about Facebook Groups:
(while we're at it, feel free to join mine here!)
Remember I said "be the voice of your blog", I meant it.  Why spend precious time constructing a gorgeous blog if you're not willing to promote it to the world?  Your blog doesn't have a voice, it doesn't have a theme song, it doesn't have legs to walk on. YOU are the ONLY person who can make it move.
Facebook groups have been instrumental to my success.  With that said, it's not as simple as "join and drop".  You can't simply drop a link into 117 different Facebook groups and expect others to flock to your blog; it will not happen.  Bloggers are human.  Humans crave connection.  YOU HAVE TO CREATE CONNECTION.
How do you do this?  By creating online relationships.  Spend time in your groups, answer other blogger's questions (whether technical or emotional), be helpful, be constructive but always kind. Give your opinions, and seek the opinions of others.  You'll be amazed (I was) that by creating REAL human connection the rest will fall into place.  Don't believe me?  Try it.
Creating connections is the 1st step of making Facebook groups work toward driving traffic to your blog.  Once you have connections and feel comfortable in a particular group you can start "link dropping" to promote your work.  Be sure to follow the group owner's guidelines and please, don't "drop" your link and run.  In other words, put a caption before your link, give your link a voice by telling others what it is (so they know before they click).  This creates intimacy and visually shows others you're putting time and effort into your link and their group.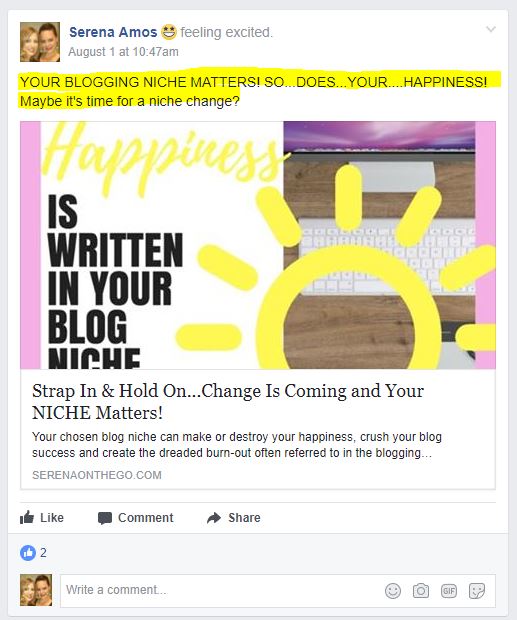 Make sure to follow the group's thread schedule and rules, otherwise, you'll just be another spammer with no views.  Also, ensure your dropped link is relevant.  Nothing is more awkward than having a nice conversation on Facebook about Pinterest and a random, out-of-nowhere blogger drops an SEO post.  Grrrr…..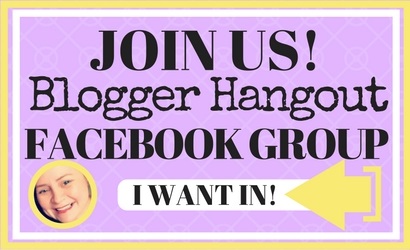 With that said, I can't talk about "threads" without telling you how I really feel. Now's a good time to refill your coffee (vodka) because it's gonna get hot in here. DO NOT, I repeat, do not participate in forced reciprocation threads with as many rules as a kindergarten class.  I was hesitant to say this because some of my favorite bloggers have Facebook groups like this, but hey, it's my blog so I'm going to tell it like it is.  Forced reciprocation style threads do not provide genuine readers or subscribers, nor do they feel good.  They bring out cattiness, cruelty, drama and tattle-telling (seriously, we're all adults here.) Forced threads are a huge time waster; that time is better spent elsewhere.  Just be genuine; follow, like and comment on blogs and social media accounts you'll ACTUALLY go back to (because isn't this who you want liking, following and commenting on your blog?).  Enough said.
Related: Start A Money Making Blog Today! 

Stop worrying about what others are doing or not doing:
"She followed then unfollowed me"
"there's too many people blogging about blogging"
"he unsubscribed from my blog"
"income reports are fake"
"she's not following the thread rules" (admin tagged…haha)
Who cares?  Not me.  Every second spent worrying about what someone else is doing or not doing is time lost from being productive on your own craft.  Just stop.  Stop giving a single care to what others are doing or not doing.  This is a short paragraph because it's really that simple. Just stop.  Worry about YOU, YOUR blog, and what YOU'RE doing and not doing.
Learn Pinterest NOW!  You won't have a single regret:
I should have mentioned this previously; while my blog has been live since April 28, 2017, I was unplugged in Maui for 16 of those days.  Literally unplugged.  I didn't write or publish a single blog post from June 19, 2017 until August 1, 2017.   I'm mentioning that because while I was in Maui completely unplugged I received over 6,000 page views.  Did you read that?  A 2 month old blog, no new content, an unplugged blogger, with over 6,000 PASSIVE page views.
Insane, right!?  The credit belongs to Pinterest and BoardBooster.
Pinterest is a beast….in a good way! But, I also understand not everyone knows how to use Pinterest and it can be INCREDIBLY overwhelming. I bought and paid for Pinterest Unpuzzled and I'm SO glad I did. Other than Making Sense of Affiliate Marketing, I can honestly say it was the best blog investment I've made yet. It's prettty much got everything you need to know about rocking Pinterest!
Pinterest is a search engine.  It uses "Alt Text" from your image (entered via WordPress when you "add media") to allow users to search for what you've written about.  So, if you've written a blog post about birds, and upload an image to Pinterest with "Alt Text" that reads "Southern birds of prey eat little baby squirrels in winter" anyone who comes to Pinterest seeking those words would likely see your pinned image as a result.  When they click on your pin it will take them to your blog post.
Each of my oldest blog posts has 1-3 pinnable (I'll touch on "pinnable" shortly) images.   My newer blog posts have 3-6 pinnable images, however, I "hide" them in my HTML code so they aren't seen ON my blog, but they pop up when someone pushes my Pinterest social share button.
Totally confused?  Go to this post, click on the Pinterest share button on the left sidebar.  Notice that pinnable images pop-up that ARE NOT on the actual blog post? Great, eh!  You can do this also:
Enter the image into your post (doesn't matter where, I always put on very top of post)
Switch to TEXT view
Enter this code before your image code: <div style="display:none">
Enter this code after your image code:  </div>

That's it.  That's how you hide a pinnable image into your blog posts! Now when you publish a new post, go to the post and share your pinnable images to your own Pinterest boards directly from your blog post via your social share buttons.
I'm also part of 58 group boards on Pinterest.  Group boards are boards that have multiple collaborators who can contribute new pins, which creates a very large audience for your pins to be seen.
Update: I now have my OWN Group Board with over 100 contributers!  Contact me with your e-mail address if you'd like to be a part of my Group Board!
Because I'm a real human (yep!) with only 2 arms, 10 fingers and roughly 14 hours of productivity time a day (I sleep sometimes), I can't realistically keep up with all these boards myself.  This is where BoardBooster comes in.  BoardBooster is an automated pinning tool that allows bloggers to set a schedule of where and when to pin.  I've set up my BoardBooster account to re-pin MY OWN pins to each group board daily (per the group board instructions, some have limits of 3-6 pins a day).   This keeps my pins recirculating to group boards 365 days a year without my manual involvement!
Earlier I mentioned I would talk a little about the meaning of "pinnable."  NOT EVERY PHOTO OR IMAGE IS PINNABLE. Meaning, don't think that just because you have an image or graphic on your blog post that it's worthy of being on Pinterest.  Pinterest has a very distinct "look".  You'll want your image to be vertical and have a clear indication showing what your blog post is about via text overlay.
Get a copy of MY FREE COURSE "Perfecting Pinnable Images" HERE! 
Think of your "pin" as an advertisement like the examples here:
IS YOUR BLOG PINNABLE?
Let me send you a FREE short course on making PINNABLE images!
This simple course will boost your blog traffic!
Pinterest drove over 25,000 views to my blog in just 4 MONTHS!
I've predicted you were going to ask me "How do I find Pinterest group boards and become a collaborator"?
The answer to that lies above.  Build online relationships and be your blog's voice.  Ok, it's not that simple, but it is that simple.  Go to PinGroupie to  find group boards that interest you, then message the owner (1st person listed) by introducing yourself and your blog and asking the owner to be a contributor to their group.  This is the exact way I got invited to over 30 groups.  I just took the bull by the horns and reached out.  I also posted in Facebook groups that I was seeking new group boards to join and received many more invitations to collaborate.  Also, sometimes you'll see new group board owners asking for collaborators on Facebook groups.  Again, don't be shy!
Facebook Group participation and Pinterest account for 90% of my blog traffic.  Since I have a tendency to shy away from things that challenge me I've just started using Instagram (follow me here), however, I've gained 214 followers in one month.  When I post to Instagram I always comment on my own post with 30 hashtags (that's all Instagram allows) and that seems to be resulting in new followers for each post.  I'll update you on my Instagram use next time since this is a brand new platform for me.
Treat your blog like a business, if you want to be rewarded like a business:
I get it, money is tight and free information is abundant on the internet.  I don't disagree, but I don't fully agree.  I'm an advocate for investing in yourself and your blog.  This doesn't have to be huge bucks, just enough to get you started on the right foot.
I'd rather see someone invest $3.95 a month in hosting to have a beautiful, fully optimizable blog they can grow, then watching them scramble later to get it moved over to a self-hosted site (seen this horror story more than once).  I'd also rather see someone invest $197 in a life changing course like Making Sense of Affiliate Marketing in order to start monetizing right away (I made $500 in 3 months, I'll create an income report soon) then someone who seeks out all the free information they can find and are still struggling to make .10 cents a year into their journey.
This is just the reality of doing business.  Investing in your blog is never a bad thing.  I'm thankful that I made a few smart investments upfront because they've paid themselves off already.
Well, if you've made it this far, awesome!  I know this was a long post but there was so much to cover and I didn't want to leave anything out.   Blogging is hard work.  You've got this!
Before I end, I want to re-establish what I updated on the "3000 Page Views in 1 Week Live" update…
UPDATE:  SINCE WRITING THIS POST I'VE RECEIVED A LOT OF COMMENTS LIKE "BUT, YOU DIDN'T ACTUALLY TELL ME HOW".  I WISH THERE WAS A STRATEGY OR "EXACT" STEPS I TOOK, BUT THERE ISN'T. I WAS SIMPLY INVOLVED, MINGLED, HELPED, ASKED QUESTIONS, DROPPED LINKS IN SCHEDULED THREADS AND MET AND NETWORKED WITH NEW "BLOGGING BUDDIES" IN THESE GROUPS. THERE REALLY IS NO "MAGIC" TO BLOGGING…IT'S ALL ABOUT ONLINE RELATIONSHIP BUILDING. YA'LL I'M BRAND NEW, TOMORROW WILL BE 3 WEEKS THAT I'VE BEEN A BLOGGER.  I CAN'T MAKE MAGIC HAPPEN, IT'S HARD WORK!
 "Do. Or do not. There is no try." — Yoda 
Start a blog RIGHT from the start! FREE Blogging Course!
Enter your name & e-mail to get immediate access!
Related Reading:
Happy Blogging & Increased Traffic, Friends!
Join my FREE Facebook Blogger Hangout!
Serena
Want a list of 30 Facebook Groups I'm In?
I'd LOVE to send it to YOU!